It is our pleasure to offer contemporary production of textiles inspired by Arts & Crafts design. We work with collectors and enthusiasts wishing to decorate in the style as well as others who appreciate the designs and the art of handcrafts.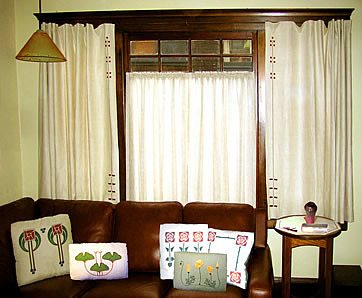 This "bungalow window" has sheer curtains of Ecru Linen Scrim mounted inside the frame and over-curtains of Belgian Linen with hand embroidered "Prairie Vine" design on hidden rings.
Stylized roses, poppy and ginkgo designs are popular motifs of the Arts & Crafts Movement. Our pillows and table linens are available completed or as embroidery kits.